PAN card stands for Permanent Account Number card, which is a unique ten-digit alphanumeric code issued by the Income Tax Department of India. PAN card serves as a proof of identification and is used to track financial transactions of individuals and entities in India. AN card is issued to individuals, companies, firms, and other entities who are liable to pay taxes in India. It contains the name, date of birth, photograph, and signature of the cardholder. PAN card is required for various financial transactions such as opening a bank account, applying for a credit card, buying or selling immovable property, filing income tax returns, etc. PAN card is mandatory for any entity that carries out business or profession whose total sales, turnover or gross receipts exceed Rs. 5 lakhs in a financial year. PAN card is also required for making investments such as mutual funds, stocks, bonds, etc. Individuals can apply for PAN card through NSDL or UTIITSL portals or through authorized agents. PAN card is valid for a lifetime and does not require any renewal. It is important to keep PAN card updated with the latest information to avoid any discrepancies in financial transactions.
Aadhaar card is a unique 12-digit identification number issued by the Unique Identification Authority of India (UIDAI) to residents of India. It contains demographic and biometric information of the individual, including their name, address, date of birth, photograph, fingerprints, and iris scan. Aadhaar card is a proof of identity and address and is used for availing various government schemes, subsidies, and other services. Aadhaar card is mandatory for opening bank accounts, getting a mobile connection, applying for a passport, and for various other services. Aadhaar card is used for authentication and verification purposes, and it can be used for e-KYC (Know Your Customer) verification for various services. Aadhaar card is linked to the individual's bank account, mobile number, and other services to simplify the verification process. Aadhaar card can be obtained by any resident of India, irrespective of their age, gender, or nationality, and it is issued free of cost. Individuals can apply for Aadhaar card through UIDAI website or authorized Aadhaar enrollment centers. Aadhaar card is valid for a lifetime, and individuals can update their information or biometric details online or by visiting the nearest Aadhaar enrollment center.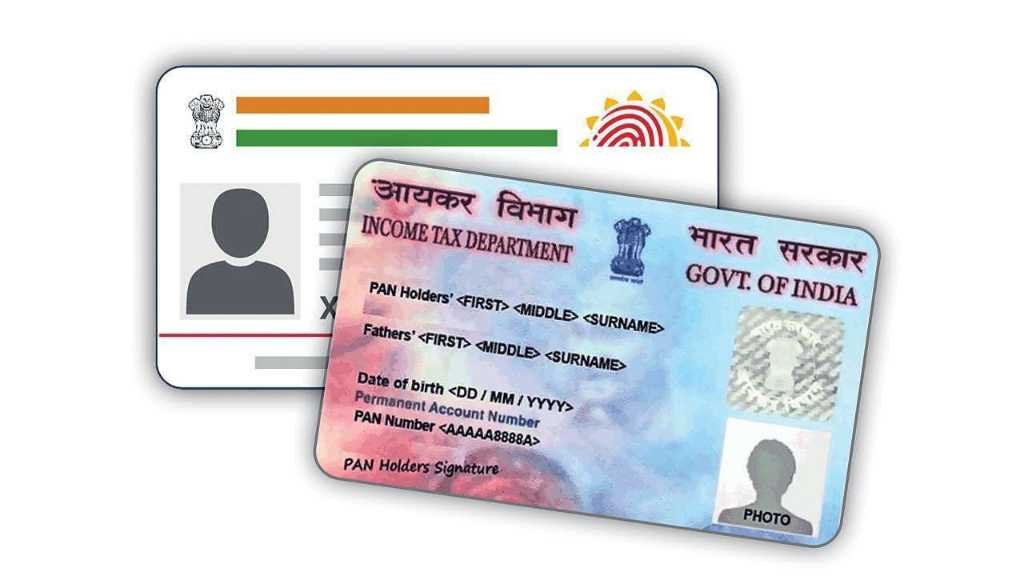 | | |
| --- | --- |
| Organization Name | Income Tax Department, Government of India |
| Last Date of Aadhaar-PAN Link | 30 June 2023 |
| Link Aadhar with Pan Official Website | eportal.incometax.gov.in |
| Location | All India |
To link your PAN (Permanent Account Number) card with your Aadhaar card, you can follow these simple steps:
Visit the Income Tax Department's e-filing portal: https://www.incometaxindiaefiling.gov.in/home
Under the "Quick Links" section on the left side of the page, click on "Link Aadhaar".
Enter your PAN, Aadhaar number, and name exactly as mentioned in your Aadhaar card.
Tick the box to declare that you have "read and understood the contents of the declaration" and then enter the captcha code.
Click on "Link Aadhaar".
Alternatively, you can also link your PAN card with Aadhaar by sending an SMS to 567678 or 56161 in the following format:
UIDPAN<SPACE><12 digit Aadhaar number><SPACE><10 digit PAN number>
For example, if your Aadhaar number is 123456789012 and your PAN number is ABCDE1234F, you would send the following SMS: UIDPAN 123456789012 ABCDE1234F
After you have linked your PAN card with Aadhaar, you will receive a message on your registered mobile number and email address confirming the successful linking of the two documents.
How to Link PAN card with Aadhar 2023
Follow the steps below to link Aadhaar with PAN card. Time till 30 June 2023 has been given to link PAN card with Aadhaar.